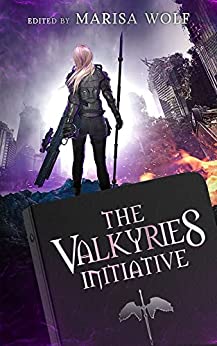 Part of the
Valkyries
series:
The Valkyrie's Initiative
Female Assassins—Apply Here!
In Hit World, everything is legal—if you pay the right amount to the right person with the right paperwork. LifeEnders, Inc. has made a lot of money taking all kinds of targets off the board—everything from an annoying boss to a rampaging monster from another dimension.
But there are some things no contract can cover. When a rival organization threatens to eat LEI from the inside out, they'll need something beyond their licensed Shooters to counter their new enemy.
They'll need Valkyries.
Meet the first fifteen women who may be tapped for the Valkyries Initiative. Through murder, magic, and mayhem, these women might save the world… or end it.
With stories by:
Marisa Wolf
JD Blackrose
Matt Novotny
Melissa Olthoff
Charity Ayres
Joelle Presby
Becca Lee Gardner
Mel Todd
Kayla Krantz
Kristi Bradley
Jordan Comeaux
April Kelley Jones
Mary McKenna
Rob Howell
Kacey Ezell
Reviews:
Kindle Customer

on

Amazon

wrote:
5.0 out of 5 stars The Hit World Universe just explosively expanded its cast of characters!!
Reviewed in the United States 🇺🇸 on September 30, 2022
KUDOS! KUDOS!! KUDOS!!! Marisa Wolf and her team of author vixens just shook the Hit World Universe to its foundations! Memorable characters embark upon fantastic voyages across the pages of this Hit World anthology, bringing the readers exquisite excitement, magic, extraplanetary monsters, shape-shifting saurian mind controllers, more magic, a Pegasus that can change into an automobile, TOP-FLIGHT ASSASSINS, MORE MAGIC, and sexy, strong, BADASS female lead characters, and MORE MAGIC!! In those immortal words, "It don't get no better than this." At least until the next vixen-volume in Hit World!!
Ian Titler

on

Amazon

wrote:
5.0 out of 5 stars Girl power in Hit World
Reviewed in the United States 🇺🇸 on September 16, 2022
This didn't disappoint! LEI is under threat from an organisation trying to destroy them from the inside, they need different kind of solution, They send a female Shooter out to recruit women with different abilities and powers - including a genuine Valkyrie complete with a shapeshifting Pegasus partner. All these women have one thing in common, they don't give up, though all have issues, some need resolving - or even Balancing Separately, they are a handful, as a team, unstoppable.