Stephen Blackmoore is a master of noir, and a magician at paranormal noir. His Eric Carter series just keeps getting better and better, and I recommend the series from the first book, Dead Things, to the latest, Ghost Money.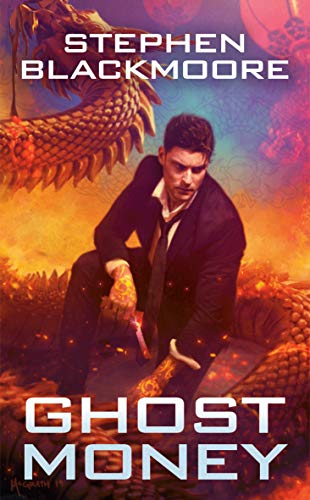 One of the things I like most about Eric is that he is a fully realized character. He's your typical noir detective, hard-boiled, carrying a ridiculous amount of unnecessary guilt, with a god-complex—oh, wait, that one might be legitimate, but he's cool. I'd like to get a drink with him if he got a chance to breath in between catastrophes.
Eric is a necromancer in Los Angeles who has an unhealthy relationship with Santa Muerte and the old Aztec gods. He laden by guilt from his past, a bit of which a frenemy won't let him forget, and in this book, he's dealing with hungry ghosts who will eat souls from the inside out. It's not a good look when it happens, and you get the idea that it is extraordinarily painful. Eric is only, sorta, maybe, yeah, is at least partially responsible for the havoc that caused the ghosts in the first place so he feels he has to help clean it up, especially because he's the only one who can. Meanwhile, he's on a deadline because Santa Muerte is coming to take him away to fix what he helped break in the Aztec after-life and she's not a bony lady to be denied.
Did I mention there is also a bottle and a djinn and a demon and a magic hotel in another dimension?
It's complicated.
The thing is, it is also awesome, and you should read it.
Ghost Money comes out April 28th. Amazon Link