Available March 5 on Amazon
I couldn't find my penis. I'd last seen it on the nightstand next to my walk-in freezer, but when I emerged in the morning, it wasn't there. I didn't need a penis, but I'd had twenty human years with one and I'd gotten used to it.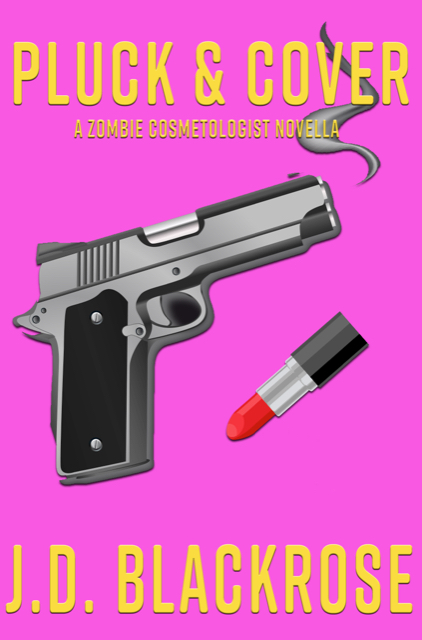 "Mrs. Ross? Are you here? Have you seen my penis?"
"You need a new one, Waylon." Mrs. Betsy Ross' specter floated into my room, holding the missing appendage.
"I know, but they have to be fresh and coming upon a juicy, still-warm body is a tricksy thing. Can you please sew this one back on?"
"You don't urinate or have sexual relations."
I sighed. "Mrs. Ross, it is humiliating enough to ask you to connect my male member to my body, please don't make it worse."
"Fine." She sniffed. "Sit on the couch."
I placed my rear on the couch, spread my legs, and closed my eyes while one of history's greatest seamstresses made me whole again. If I could have blushed, I would have reddened from my toes to my ears, and as it was, I squirmed until she smacked me on the thigh.
"If you want this sewn on properly, you'll stop your fidgeting."
I held still but stared out the sliding back doors at an Evergreen Pear tree, fists clenched. The tree's beauty distracted me, it's white flowers still visible, the bees and birds swooping in and out. I was glad it was thriving in the northern exposure. I had worried it was too far west and would need more early morning sun, but it was doing well.
"There," Mrs. Ross said, rubbing her hands together, bringing me back to the situation at hand. "I'm done, but it looks mighty sad."
"What's looking mighty sad?"
I hadn't heard him come in but Dr. Samuel Early peered over Mrs. Ross' shoulder, extracted his reading glasses from his shirt pocket and placed them on his nose.
"It's too gray," he said.
"It's not." I pushed them both away and closed my legs.
"No, wait, let me get a good gander," Early said.
He leaned close, only a few inches from my body and studied my penis, clucking his tongue. I bit my lower lip until it would have bled and flicked my eyes to a painting of a woman measuring the length of a soldier's sleeves. It wasn't the painting that held my eyes, although the soldier was George Washington and the seamstress was Mrs. Ross. No, it was the safe that lay behind it that held my attention.
Doc Early tsked, interrupting my musings. "Shriveled and discolored. Why are you holding on to this?"
I shoved him away, glaring. "You want to give me yours?"
Early pulled up short and sauntered back a few feet, raising his chin to meet my eyes. I was a good six-foot-five and Early was all of five-foot-eight. With shoes.
"Certainly not! I'm still using mine."
"Yours is only useable because of me," I reminded him.
He wrinkled his nose. "I know, but you don't mind because I'm useful."
"You're necessary. I wouldn't be like this if it wasn't for you. You owe me," I said.
"Instead, you'd be dead."
"Exactly!" My breath came out in an exasperated huff.
I'd explained it to him and explained it to him but getting Early to understand why I wanted to die after one-hundred and some odd years was impossible, but then, he didn't look like me. He was a living, warm-blooded, normal human with an exceptionally long life. Swallowing zombie flesh once a month will do that to you.
It killed me, pun intended, that I needed him.
I harrumphed and turned to Mrs. Ross. "Mrs. Ross, do we have any clients today?"
"Mitzi."
Early cocked his head, and I noticed he had jowls I hadn't seen before. I guess swallowing Waylon bits didn't stop aging altogether, which was something I hadn't considered. Unaware of my scrutiny, Early's face lit up as he said, "Mitzi? From that TV show and the tabloids Mitzi?"
I nodded. "But remember that I have client/cosmetologist confidentiality. You are forbidden to see her or say anything."
"I can't even see her? She's gorgeous!" His eyes narrowed. "Why does Mitzi need you?"
"She swears by my facials."
Early's eyes opened wide. "You're the reason Mitzi is so hot? Whooo, boy! Good on ya."
"Stop talking, Early. It's not doing you any favors."
"Can't I meet her? I'll never tell."
"No. Mrs. Ross, when is she coming?"
"Twenty minutes." Mrs. Ross fanned her face with her hand, a habit she'd maintained since death. It meant she wanted to say something.
"What is it?" I asked.
"You need to get dressed."
"Of course. Anything else I need to know for today?" I turned and was heading to my bedroom. Her delicate cough made me look back.
"What?"
She pulled a notepad and pen from somewhere I couldn't see and checked a list. "Captain Perkins, from the Los Angeles Sheriff's office, wants to see you. He's the head of the Malibu/Lost Hills station."
I stopped short. "Why?"
"He didn't say."
"Did you ask?"
"What do I look like, your secretary?"
I breathed in to a count of five. "Actually, yes, Mrs. Ross, because in fact, you are my secretary. Asking why someone wants to see your boss is part of what secretaries do."
She shrugged. "Fine. Then I want to be an executive assistant."
"Oh. My. God." I left the room for my bedroom, pulled on boxers, dark dress slacks, a long-sleeved blue Oxford shirt, and knotted a darker blue tie. I couldn't do anything about my hair, which was a golden blonde and flopped into my eyes, as it always would. Even if I cut it, it grew overnight. No one could explain it, but metaphysics and magic didn't follow predictable rules.
I did my make-up. The scars would never fade, but I'd found that hiding them made it easier for the living to look at me. The dead didn't seem to mind.
I'd gotten my cosmetology license and studied special effects make-up with some of the top Hollywood artists. I had a long list of clients who didn't believe I was a zombie but did believe that I could hide anything. In California, I wasn't a zombie. I was an eccentric marketing genius. Like the business cards said, "Zombie Cosmetology: No Scar Too Hard. Calabasas, CA." I wondered if the captain needed a peel. It would be a good idea, given how much he was in the sun.
While I covered my skin, I left my eyes alone. They were a normal chocolate brown with blonde lashes and looked mostly human, which was a saving grace because it helped me pass.
I pulled on soft tan gloves so thin and flexible that I could still tie my dress shoes. I walked to my procedure room and donned by white lab coat that hung on the back of the door. As I gathered my instruments, I called out for my secretary. Err…executive assistant.
"Mrs. Ross. What time is Perkins coming?"
"An hour after Mitzi," she called back. I caught sight of her floating in the hallway.
"Are you filing your nails?"
She gazed at me, one hip at an angle, pausing mid-air with her emery board. "Yes, what of it?"
"Your nails don't grow."
"Neither does your penis."
The doorbell rang. "Just get the door, please. And make sure your feet touch the ground. Mitzi doesn't believe in ghosts."
Mitzi, one name only, was a celebrity from two successful television shows, the first one a reality show and the second an honest-to-god acting job. Her role called for her to look amazing at all times, which was fine because she was a natural beauty. Or, at least, I made her look that way. She'd had acne as a teenager and we needed to do touch ups and treatments now and then. That's what I thought we would be doing.
Until I saw her. I tripped on my own two feet rushing to get to her and smashed my forehead on the door's upper molding.
I rubbed my forehead, although it didn't hurt, because that's what normal people did. "Mitzi, what's going on? What's with the humongous sunglasses? Are they Prada, by the way?"
Mitzi's lush dark hair swung down to cover her green eyes, and she held her designer glasses on with one hand.
"Mitzi?"
"It's nothing."
"What's nothing?"
"Promise you won't tell?"
"Mitzi, we have a confidentiality agreement."
She took a deep breath and removed her glasses.
My client's face was a mass of bruises, including a real shiner on her left eye.
"Sweetheart, were you in an accident?" I asked, while reaching out with both arms to pull her into my examination chair. I settled her in and pulled my light and a magnifying mirror closer to her face.
Her eyes welled with tears and a tiny snot bubble dripped from her nose, belying the glitz and glamour of Hollywood life. Forget putting our pants on one foot at a time. We all ugly cried when things got rough.
"I annoyed Jason when I didn't make our dinner reservations on time. By the time I met him, he'd consumed a bottle of merlot by himself, cancelled our table, shoved me into a car and took me home. I apologized, but he went on and on about how I'd embarrassed him in front of the maître d'. He's right, I should have called, but I was working. Things ran late on set."
I put a cooling mask on her face to bring the swelling down and retrieved cold tea bags I kept in the freezer for her eyes. My hands were steady, but my mind was racing. My voice low and calm, I said, "Jason hit you?"
"Like I said, I was late."
"That is irrelevant. Jason Teague, star of The Marvelous Five, the top super hero movie of this past summer, a man so muscled that his muscles had muscles, used that strength to beat you up?"
"I should have called."
"Mitzi," I said, massaging her temples. "He had no right to hit you."
"He lost his temper, it's true, but it was my fault."
"No. It. Wasn't."
A creak at the door told me someone was looking in and I was betting by the intake of breath that Early was sneaking a peek at the gorgeous TV star despite my warning him off because he was just that kind of asshole. His breath turned into a controlled exhale and a deep rumble of restrained anger and my annoyance lessened somewhat. He had a lot of faults, one being that he was a former southern Civil War doctor who experimented on dying men to turn them into zombies, but on the other hand, his southern sensibility meant he had an old-school sense of propriety around women. It may be antiquated in this day and age, but for Early, this violence would be an anathema punishable by hanging. Mitzi was so absorbed in her own worries, she didn't hear him.
"No judgments, please, Waylon. I need to be at the studio in an hour. Can you cover this mess?"
"Sure, Mitzi. You'll look great." The bruises required a mixture of yellow, green, and peach concealers to neutralize the florid colors, followed by a full-coverage foundation applied in layers with a special feather-light brush. I gave her a strong winged eyeliner and three layers of mascara to bring the attention to her eyes and went with a light lip gloss. She had naturally dramatic eyebrows, so they only required a bit of shaping. Adding a touch of shimmer on the top of her cheekbones finished the look.
By the time I was done, you couldn't see a thing. "Will the make-up artist at the studio be okay with another professional doing your face?" I asked.
"I'll handle her, don't you worry. You're the best, Waylon." She threw her arms around me and gave me a warm hug that made me wish I could have a girlfriend.
"Don't let him do this to you again, Mitzi. Call for help. Call me if you need, anytime. Go to the police. This is assault."
"It's just the one time." She gave me a wink but there was sadness behind her eyes. As she reached for the knob, the door swung open.
"Oh, Waylon, I'm sorry. I didn't know you had a client." Early stared at Mitzi. "Oh, Mitzi! I love your show. You look beautiful as ever." He leaned close, speaking in a conspiratorial whisper. "Did my friend Waylon treat you right?"
"Oh, yes. He's magic."
Early nodded and held out his hand. "That he is. My name is Dr. Samuel Early. I sometimes consult for Waylon."
"Oh, you're a dermatologist?"
"I'm a specialist, yes."
"That's terrific. I've got to go. Nice to meet you Dr. Early."
"Let me escort you to your car." Early held out his elbow and she took it, giggling.
"Such a gentleman."
Early led her from the room, shooting me a look over his shoulder as he did so. I acknowledged with a sharp nod. Early would keep an eye on her and, if I was a betting man, would locate one Jason Teague.
The thought was a little unsettling.
"Captain Perkins knows you're a ghost, but it's not nice to rub his face in it. Concentrate and make yourself solid."
Mrs. Ross waggled her eyebrows. "I'd like it if he rubbed his face in certain places."
"Mrs. Ross! Not appropriate."
"He's a fine-looking man, Waylon Jenkins, and all I have to do is wait another forty years or so to get a crack at him."
"Ugh. Don't say such things. It makes me want to stick my hands in my ears and la, la, la my way out of here. When he's dead, you do you, but for now, keep it clean, please."
"You are the most boring zombie I know."
"You don't know any other zombies!"
"Doesn't make my statement any less true."
"Just get the door."
Mrs. Ross cooed at Captain Jacob Perkins, the leader of the local constabulary and human as they come, but a man aware of the supernatural. I didn't know his history with the paranormal in detail, but we'd met a time or two and I'd confided what I was. It didn't mean he liked me and for him to pay a house call meant bad news. I wondered what brought the lawman out to see me.
"Captain. Welcome to my office." I proffered my hand.
The captain's eyes were cold, and he looked at my outstretched arm like it was a dead fish.
"Tell me, Mr. Jenkins," he said, sitting down while taking his hat off his head. "Are you eating well these days? Feeling a little peckish now and then? Going out for a bite?"
I sat, wary. "Captain, what are you talking about?"
"Don't you zombies eat human flesh?"
"No, those are orcs. Zombies eat nothing. Where's this going?"
The captain slapped his hat on his leg. "I've got bodies, Mr. Jenkins. Three of them."
"Homicides?"
"Every damn one."
"I'm sorry to hear that, but why come to me?"
The captain leaned in, his blue eyes sharp and furious. "Because, Mr. Jenkins, every time I get to one, it's missing body parts."
"Animals?"
"No, not animals. Our murderer did it with a sharp instrument, like a––" He hesitated, his lip curled.
"A what?" Now it was my turn to lean in.
"A chef's knife."
"Unlikely," I said, sitting back in my chair and steepling my fingers.
"Sounds paranormal to me."
"I don't know about that. Humans do pretty weird stuff too."
"Waylon, let's put this in a straightforward manner. I'm taking you to the Coroner's office to examine these bodies. This is woo-woo stuff and you are the only–ah, person–I know who has an eye on the paranormal."
"I'm a cosmetologist! I don't do murders."
"Consider yourself drafted. In the meantime, tell me about your relationship with Jimmy Ricci."
"Jimmy the Duck? Absolutely nothing. He's a scumbag, but I know that from the news, not by personal association."
"You can prove that?"
"Prove that I don't know him? No one can prove a negative, Captain."
"But if I look through his bank accounts, follow his cash flow, I won't come to you?"
"If he lets you look through them you won't find a trail to me."
"He'll let me alright."
"How? Caught him red handed with a chef's knife?"
"Naw. He's dead. He's the last of the three bodies I was telling you about."
"Somebody whacked Jimmy the Duck?"
"Someone killed him. No one says 'whacked' anymore."
"Still, it takes nerve to do that, right? His dad is probably out for blood."
Perkins waggled his hands in a so-so motion. "His father is shook up. It's his mother I'm worried about. Rita has a mean streak."
I studied him. "Rita? First name basis? You know her?"
"Went to the same high school. I didn't know she would marry such a putz."
I cringed. "Language, Captain."
"Fuck you. I've got three dead bodies with missing parts and you're the only guy I know who could use them. I still like you for it, but even if you didn't do it, you are the only one who can shed light on who might have. So giddyap."
I sighed and stood, my frame dwarfing the lawman, even though he was a former football player and not too small.
"Lead on, Captain. Let's go see who carved up the Duck."
Available March 5 on Amazon.
###