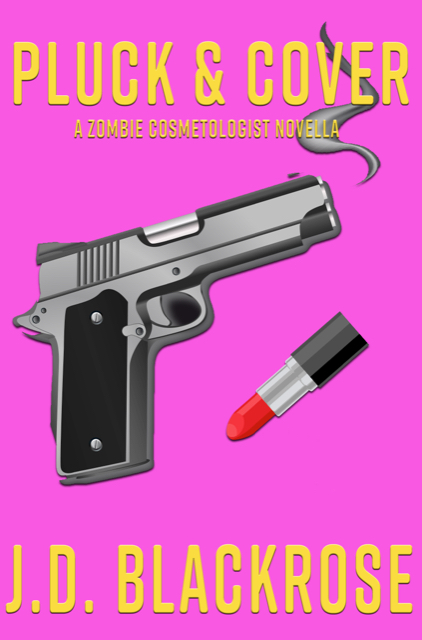 It's Lies and Lipstick! Waylon Jenkins has a problem. Well, he's got a few of them. The ghost of Betsy Ross lives in his house, he's pretty sure his favorite client is the victim of ongoing domestic violence, and he's been roped into helping the police investigate a series of murders.
And his penis fell off in the shower this morning. He needs a new one, but none of his friends are willing to donate theirs to the cause.
In case it isn't obvious by now, Waylon Jenkins is a zombie.
He's also one of the most highly respected and in-demand makeup artists in Hollywood, and that keeps him busy, no matter how dead he is. But now he needs to find out who's committing a string of murders, and make sure nobody hurts Mitzi (one name only), one of his most faithful (and famous) clients.
He also needs a new penis.
Published:
March 5, 2020
Publisher:
Falstaff Books
Editors:
Cover Artists:
Genres:
Excerpt:
I couldn't find my penis. I'd last seen it on the nightstand next to my walk-in freezer, but when I emerged in the morning, it wasn't there. I didn't need a penis, but I'd had twenty human years with one and I'd gotten used to it.
"Mrs. Ross? Are you here? Have you seen my penis?"
"You need a new one, Waylon." Mrs. Betsy Ross' specter floated into my room, holding the missing appendage.
"I know, but they have to be fresh and coming upon a juicy, still-warm body is a tricksy thing. Can you please sew this one back on?"
"You don't urinate or have sexual relations."
I sighed. "Mrs. Ross, it is humiliating enough to ask you to connect my male member to my body, please don't make it worse."
"Fine." She sniffed. "Sit on the couch."
READ MORE
I placed my rear on the couch, spread my legs, and closed my eyes while one of history's greatest seamstresses made me whole again. If I could have blushed, I would have reddened from my toes to my ears, and as it was, I squirmed until she smacked me on the thigh.
"If you want this sewn on properly, you'll stop your fidgeting."
I held still but stared out the sliding back doors at an Evergreen Pear tree, fists clenched. The tree's beauty distracted me, it's white flowers still visible, the bees and birds swooping in and out. I was glad it was thriving in the northern exposure. I had worried it was too far west and would need more early morning sun, but it was doing well.
"There," Mrs. Ross said, rubbing her hands together, bringing me back to the situation at hand. "I'm done, but it looks mighty sad."
"What's looking mighty sad?"
I hadn't heard him come in but Dr. Samuel Early peered over Mrs. Ross' shoulder, extracted his reading glasses from his shirt pocket and placed them on his nose.
"It's too gray," he said.
"It's not." I pushed them both away and closed my legs.
"No, wait, let me get a good gander," Early said.
He leaned close, only a few inches from my body and studied my penis, clucking his tongue. I bit my lower lip until it would have bled and flicked my eyes to a painting of a woman measuring the length of a soldier's sleeves. It wasn't the painting that held my eyes, although the soldier was George Washington and the seamstress was Mrs. Ross. No, it was the safe that lay behind it that held my attention.
Doc Early tsked, interrupting my musings. "Shriveled and discolored. Why are you holding on to this?"
I shoved him away, glaring. "You want to give me yours?"
Early pulled up short and sauntered back a few feet, raising his chin to meet my eyes. I was a good six-foot-five and Early was all of five-foot-eight. With shoes.
"Certainly not! I'm still using mine."
"Yours is only useable because of me," I reminded him.
He wrinkled his nose. "I know, but you don't mind because I'm useful."
"You're necessary. I wouldn't be like this if it wasn't for you. You owe me," I said.
"Instead, you'd be dead."
"Exactly!" My breath came out in an exasperated huff.
I'd explained it to him and explained it to him but getting Early to understand why I wanted to die after one-hundred and some odd years was impossible, but then, he didn't look like me. He was a living, warm-blooded, normal human with an exceptionally long life.  Swallowing zombie flesh once a month will do that to you.
It killed me, pun intended, that I needed him.
I harrumphed and turned to Mrs. Ross. "Mrs. Ross, do we have any clients today?"
"Mitzi."
Early cocked his head, and I noticed he had jowls I hadn't seen before. I guess swallowing Waylon bits didn't stop aging altogether, which was something I hadn't considered. Unaware of my scrutiny, Early's face lit up as he said, "Mitzi? From that TV show and the tabloids Mitzi?"
I nodded. "But remember that I have client/cosmetologist confidentiality. You are forbidden to see her or say anything."
"I can't even see her? She's gorgeous!" His eyes narrowed. "Why does Mitzi need you?"
"She swears by my facials."
Early's eyes opened wide. "You're the reason Mitzi is so hot? Whooo, boy! Good on ya."
"Stop talking, Early. It's not doing you any favors."
"Can't I meet her? I'll never tell."
"No. Mrs. Ross, when is she coming?"
"Twenty minutes." Mrs. Ross fanned her face with her hand, a habit she'd maintained since death. It meant she wanted to say something.
"What is it?" I asked.
"You need to get dressed."
"Of course. Anything else I need to know for today?" I turned and was heading to my bedroom. Her delicate cough made me look back.
"What?"
She pulled a notepad and pen from somewhere I couldn't see and checked a list. "Captain Perkins, from the Los Angeles Sheriff's office, wants to see you. He's the head of the Malibu/Lost Hills station."
I stopped short. "Why?"
"He didn't say."
"Did you ask?"
"What do I look like, your secretary?"
I breathed in to a count of five. "Actually, yes, Mrs. Ross, because in fact, you are my secretary. Asking why someone wants to see your boss is part of what secretaries do."
She shrugged. "Fine. Then I want to be an executive assistant."
COLLAPSE
Reviews:
Casey Daniels, author of Don of the Dead

on

https://www.amazon.com/gp/product/B084ZZZLGF/

wrote:
"Waylon Jenkins is not your typical detective. For one thing, he's a cosmetologist and make-up artist. For another, he's dead. Now, this zombie with a keen wit and a warm (non-beating) heart is teaming up with a ghost and the local police captain to find out who's killing and dismembering men in LA. "Pluck and Cover" delivers paranormal chills, plenty of twists and turns, and lots of laughs along with a one-of-a-kind protagonist readers will want to check in with again and again. "