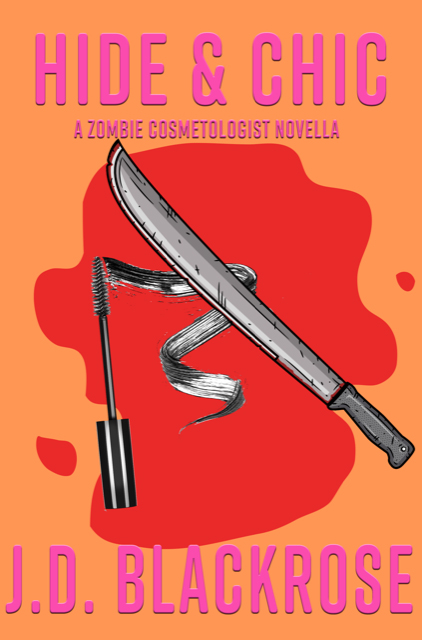 It's Murder & Mascara! Waylon Jenkins can't die. He also can't let Dr. Samuel Early, his only hope of dying, go off on a mission to rescue a disembodied zombie in the heart of a Central American jungle without him. But even this skilled cosmetologist to the stars isn't fully prepared to blend-blend-blend himself into a convincing member of a strike team, not when his first instincts are to give moisturizer recommendations to sunburned vacationers.
As they delve into the jungle, they uncover a much bigger problem than the drug cartels. Someone is after Rodrigo Flores and his family and it's personal. The only way to help the family get through it alive to help his daughter, Amalia, win the Miss Mango Pageant. Will Waylon's skills and his famous friend and client, Mitzi (one name only), be the team's secret weapon?
Can Waylon get through it without breaking his vow never to make a zombie?
And who is the mysterious Señor Cinco that seems to be behind it all?
Hold on to your butt paste. This is going to get wild.
Published:
June 11, 2020
Publisher:
Falstaff Books
Editors:
Cover Artists:
Genres:
Excerpt:
Everest lost his head, and Peter caught it.
I watched the zombies as they trained in an old gymnasium, wrinkling my nose against the stagnant funk of gym socks and jock straps that had built up over decades. The Industries, the organization that funded the undead military squad, had paid for the building, totally unaware of the purchase thanks to Peter's financial shuffling. Externally, it looked like an abandoned lot with a broken-down basketball court and a padlock on the door. Inside, it served an important purpose—letting unkillable, dead people hack each other to pieces.
READ MORE
Right now, antipathy and frustration ran amok and machetes swung with abandon. Eddie, atypically for the seasoned soldier and the leader of the group, lost control and sliced off Everest's head in one wild stroke. It flew in a languid arc, Everest's brown eyes rolling in disbelief, until Peter dove, caught it, cradled it like an experienced wide receiver, and landed on his back, holding it up in the air.
"Don't spike it!" I yelled, jumping from the bleachers and running to grab the head from Peter.
"Jesus fucking Christ!" Everest yelled, his face thunderous, his dark skin blushing a furious, mottled purple. "What's wrong with you, Eddie?"
Eddie flushed with embarrassment. "I'm so sorry, Everest. I'm not used to machetes."
"None of us are, but you don't see anyone else slicing off heads." Everest jerked his eyes in Eddie's direction. "Waylon, turn me around."
I pivoted, holding his head in my arm so he faced his commanding officer.
Eddie grimaced and pleaded his case. "I'm a little off with the whole Zed thing. It's my fault we left him."
"We didn't know he couldn't move on," Everest said from the crook of my elbow. "It's not your fault. We'll go get him and make him whole again."
I wasn't sure this would work, but I'd agreed to go on this cockamamie mission because the zombie military unit left a soldier on the battlefield, not realizing that zombies never die. Even if you pulverize our bodies in a blender with spinach to make a zombie smoothie, our spirits stay tethered to the earth, unable to move on or interact with the outside world. We linger in endless limbo, a hellish scenario I'd experienced personally until my doctor friend, Samuel Early, reconstituted my body, and I'd returned to it. Early was the Civil War doctor who'd turned me into a zombie in the first place, and I'd kept him alive by feeding him some of my flesh each month so he could research how to kill me.
The zombie unit, a black-ops group so unofficial that not even the President knew about it, hid in plain sight under the rubric of an above-board company called The Industries, headquartered near me in Calabasas, CA. The unit got sucked into a skirmish on my property, and we'd become allies of sorts. It was a violent skirmish with guns, bad guys in black, and the authorities. I lost my torso and head for a while, but it all worked out in the end. Our local police captain arrested the evildoer, a vile man named Quint Addington, and I thought I'd go back to my day job as a cosmetologist to the Hollywood movers and shakers, smoothing out wrinkles on celebrity foreheads and hiding under-eye circles.
Now, here I was, volunteering for a mission I was not qualified for.
Without my personal assistant, Mrs. Betsy Ross, the nation's most famous seamstress, to sew Everest's head back on, Dr. Early would have to do the surgery. He gathered his supplies from the emergency medical kit he always carried with him and set about fixing Everest's head on straight.
"You can shoot someone before you get close enough to use a machete," said Clipper, the taciturn member of the group, motioning to a 3-D printer he cradled like his precious from Lord of the Rings. Wire-rimmed glasses perched on his nose; he was the only one who hadn't tested the machetes. He'd set the thing on a table he'd brought in a few weeks ago.
The printer made plastic parts that snapped together, and with a few metal pins, screws, and rubber bands made passable guns.
"What if they take you by surprise, Clipper?" asked Peter.
"That's never happened."
"Oh, come on. You've been taken by surprise at least once or twice."
Everest turned his massive neck left and right, adjusting the fit. He stared into a hand mirror Doc Early gave him to examine his new scar, and said, "Not since I've served with him."
"Well, there's always a first time," said Early, as he motioned Everest closer to tighten a few stitches.
"Clipper, what did you do before you died?" I asked.
"Classified," he replied, returning to his work on the computer and printer.
"Clipper's an expert in what the Russians call maskirovka," Everest said. "Misinformation. Deception. He's our chess master."
"Right now, he's going to stop playing with the printer and turn his considerable brainpower to figuring out how to get to our destination," explained Peter.
"You guys got in before. Why don't we go the same way?" I asked.
"Because we used it before and now it's closed to us," said Clipper, his voice telling me I was an idiot for even asking. "Obviously."
"Why do you wear glasses, Clipper?" I asked, going all-in on the annoyance factor. He couldn't kill me a second time. "Can't you get new eyes with 20/20 vision?"
"No. They always return to this."
I thought about it and realized my eyes did the same thing. Even if I got a new body, and I had, in fact, settled into a completely new torso, neck, arms, and head two days ago, my eyes became my own. My brown, human eyes stayed with me, as did my hair, no matter what other replacement parts I received. Hair and eye permanence made me recognizable to friends, even if I gained muscle through a replacement torso, or new legs added to my height.
Eddie clapped his hands. "Let's chat, gentlemen."
We gathered round, Eddie taking a moment to whisper an apology into Everest's ear. Everest slapped Eddie on the back and, just like that, the whole thing was over. I studied the group, wondering how we all got here.
The soldiers had volunteered for the zombie program, but I was a Civil War soldier for the North, turned at the Battle of Shiloh by Doctor Samuel Early. Desperate to have as normal a life as possible, I'd studied special effects make-up and cosmetology to hide my scars, and built a nice practice in Calabasas, CA, taking care of actors, actresses, and the like.
I was a cosmetologist, dammit, not a soldier.
COLLAPSE