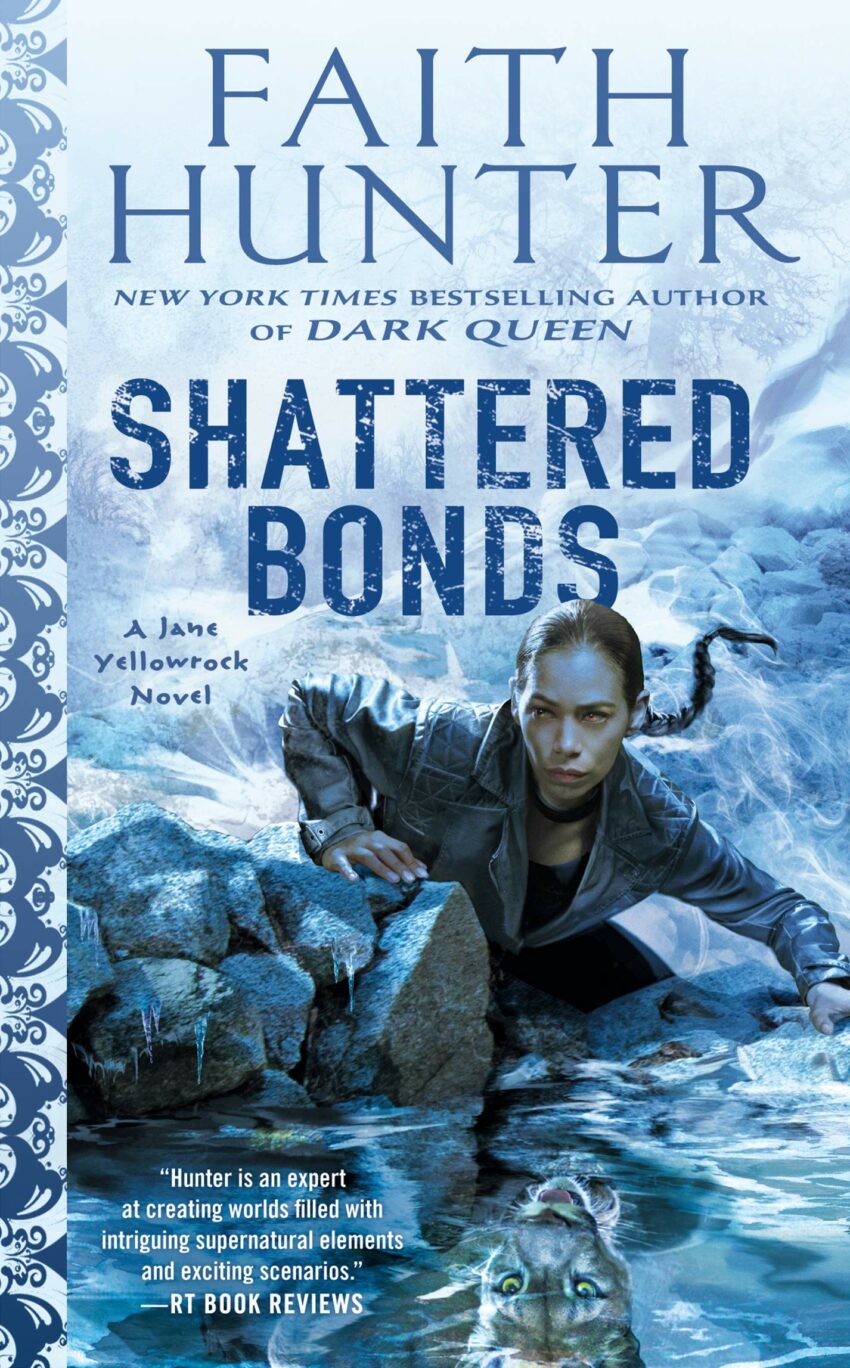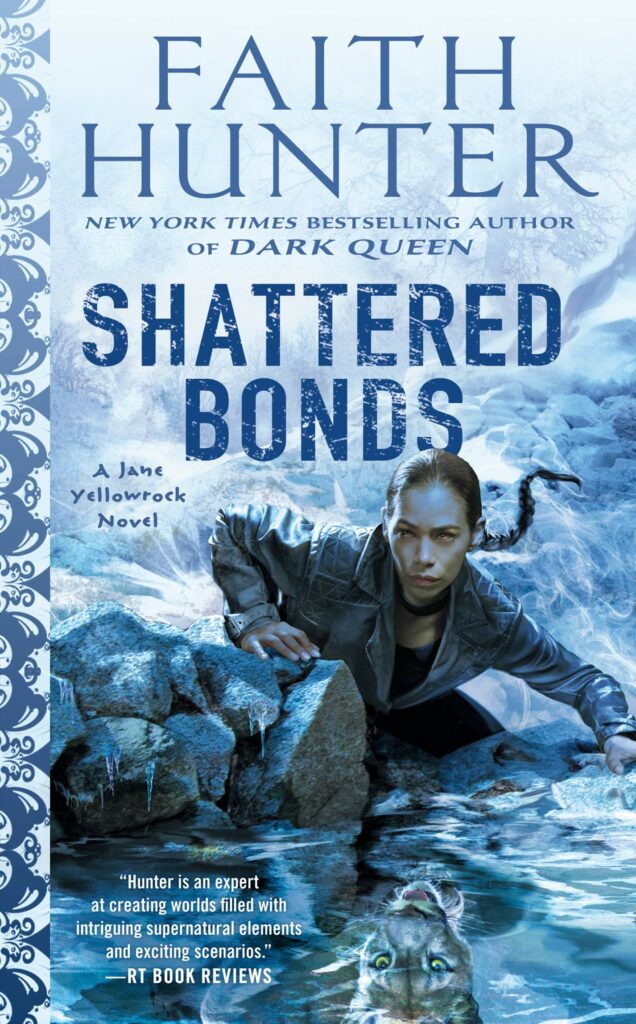 Shattered Bonds by Faith Hunter just about shattered my heart. Jane and Bruiser's relationship morphs beyond sexy into something deep and lasting. Eli, the ever present body guard/warrior/brother is constant and true. (I want to marry Eli when I grow up.) Molly is a soul sister, as we already knew, and Jane's love for her god-children flashes brightly.
But it is Beast and Jane's relationship that made me weep. I won't say anything to spoil it, but I/We are Beast. Oh. My. Heart.
Oh, yeah, there's a lot of action. Dead vamps. Not so dead vamps. Healing waters. Guns. The Glob. The crown. Naturaleza. The stupid Europeans. Arcenciels. Gee flies in and out. (Love him.) CBD oils comes up a couple of times. And Brute is one hell of a babysitter. Hayyel plays an important part and I was worried for a while because our beloved author likes to play games with us (cat's paw?) but in the end I was able to breathe.
And did we mention that Jane has magical cancer and it's pointy? Yeesh.
If you love Jane, as I do, you will LOVE this book. It's fantastic. It brings things together that were left hanging. If you haven't met Jane yet, don't read this book. Go to book number 1 and call in sick to work. You have a lot to catch up on. In the meantime, read this exclusive excerpt!
EXCERPT #1
SHATTERED BONDS by Faith Hunter, copyright Faith Hunter: Excerpt One
Beast pawpawpawed, slow, across ridge of rock over creek. Silent. Good predator. Moving back paw into front paw track, pawprints overlapping in fresh layer of snow. Beast lifted snout and sniffed, breath in two white clouds in icy air. Wind blew own scent back, along path. Wind filled nose with musk of three male deer, upwind. Bucks did not see or smell Beast. Beast is best hunter.
But.
Biggest buck raised head. Sniffing. Pawing dirt. Eyes on tree bark where Beast had left mark before last pregnant moon. Where Beast had sharpened claws to mark territory. Old spoor. Beast had hunted along creek then. Was best hunter's old spoor still strong with threat? Had Beast made stupid kit mistake?
No. Beast is good hunter. Want big deer. Has much meat. Will have good blood and good organs and good belly fat. Beast hungers. Big buck is strong and healthy.
Pawed closer. Crouched. Eyes on other creek bank and deer below. Watching.
Snow covered ground, deep as Beast paw. Wet rocks were black, sharp as knife blade in hands of human hunter. Sunlight was low, angled. Reflection in pool of water below did not show Beast. Did not show deer. Was good hunting spot. Water splashed from small falls, crisp, like breaking sticks. Would cover Beast sounds.
Smaller male in male deer herd finished drinking. Leaped up bank to flat ground beneath Beast's perch. Beast waited. Finally, big deer dropped head. And drank.
There's a tour-wide giveaway! Prizes include a necklace made by Faith Hunter, Amazon gift cards, and copies of SHATTERED BONDS! Open to US residents only.
a Rafflecopter giveaway
To follow all of the blog stops, visit here: Tour Stops: http://www.ltpromos.com/2019/10/09/faith-hunters-shattered-bonds-blog-tour/
Available everywhere, but I believe the audiobook is only available at Amazon through Audible. Barnes and Noble link here.
Who is Faith Hunter?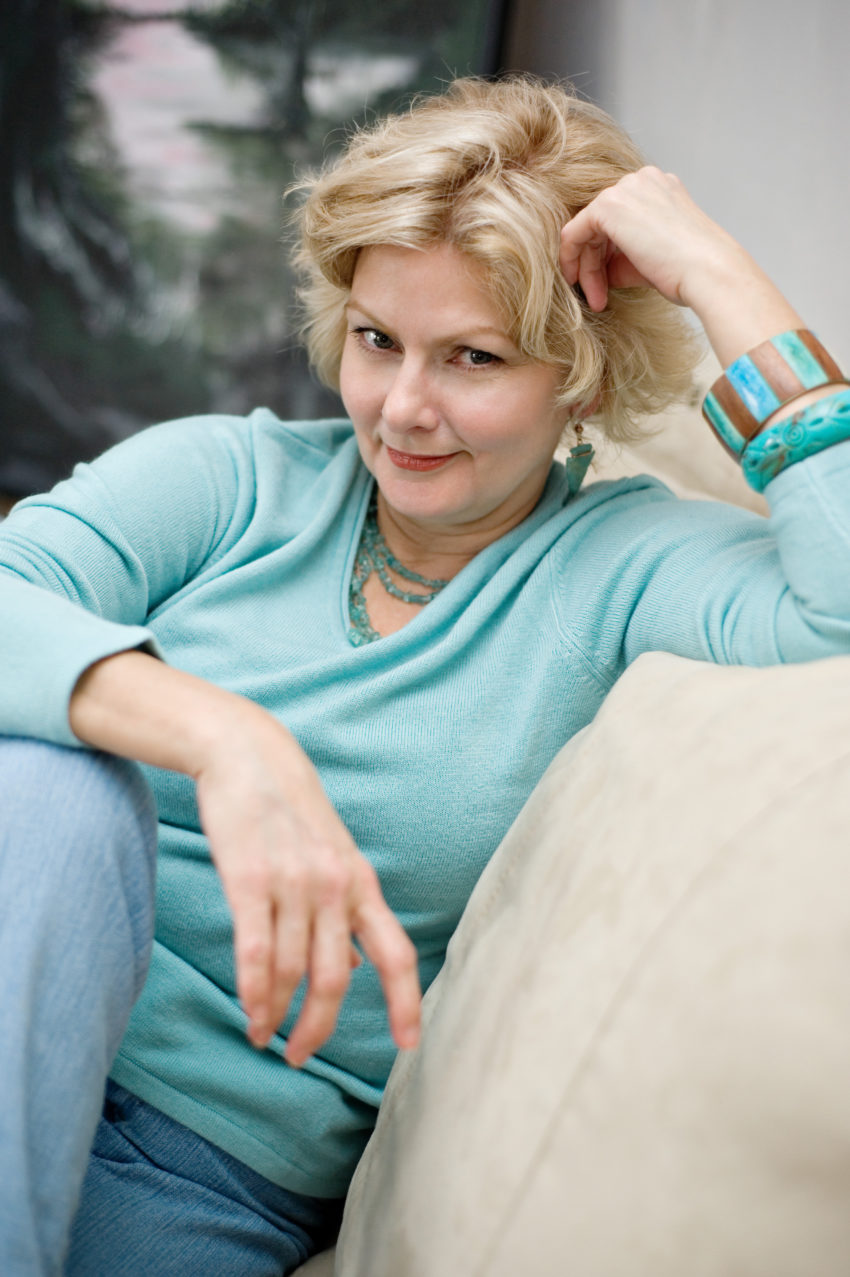 Faith Hunter is the New York Times and USAToday bestselling author of the Jane Yellowrock series, the Soulwood series, and the Rogue Mage series, as well as the author of 16 thrillers under pen the names Gary Hunter and Gwen Hunter. She has 40+ books in print.

Faith collects orchids and animal skulls, loves thunder storms, and writes. She likes to cook soup, bake homemade bread, garden, and run Class III whitewater rivers. She edits the occasional anthology and drinks a lot of tea. Some days she's a lady. Some days she ain't. For more, see www.faithhunter.net.
To keep up with her, like her fan page at Facebook: https://www.facebook.com/official.faith.hunter