Review of John Hartness' latest Quincy Harker novella.
Take a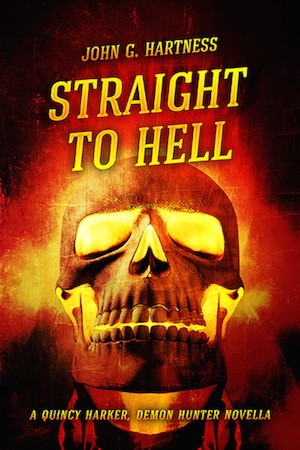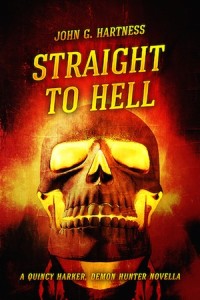 little John Constantine, a bit of Harry Dresden, some of Hartness' own character, Bubba, add a dash of Vlad, and you get Quincy.  He's an interesting and snarky combination of characters that runs around fighting evil with a self-deprecating wit and an uncertainty about what lays ahead for his soul whenever he (eventually) dies.
I like him. I like him a lot.  I must say though that I feel a little bit like I am two-timing Bubba, for whom I have a serious crush.  When I was in college, the only guys that hit on me were gigantic.  If a guy walked in looking like Paul Bunyon with a little extra weight, that is who would ask me to dance. It is ironic because I'm just a microscopic amount over five feet, and while not skinny, I'm not huge either.
It made an indelible impression on me and left me eternally grateful to the big guys. So, I hope Bubba will understand that he's still number one in my heart, but Quincy has it goin' on too.
In the latest novella, Quincy and his merry band of misfits and oddities have to battle none other than the Four Horsemen to save the world (again).  Quincy's group is a little like the Island of Misfit Toys but somehow, in the way of things, they work together to defeat the big, big bad. The fight scene against War in the redneck bar is worth the read alone.
Some favorite lines–probably because I get the jokes.
"No, I don't give a fuck what they do with the body. We did our job, we made it dead. They can make Soylent Green out of it for all I care."
"What will you be doing while we're playing Giles and Willow in the library?"
My only criticism is that is all happens so fast.  John, bubbe, make Quincy stories a whole NOVEL. Show us the third horseman.  Give us more about what happened the last time Bubba bonded with a woman.  Stretch it out a little more.  You have a loyal audience who will read it.
Get Quincy!  http://johnhartness.com/straight-to-hell/