Sex sells, violence sells. Now imagine books that have both!
(Note from JD Blackrose: This book comes with trigger warnings. It is dark romance, emphasis on DARK.)
From Karina: There is something women love about reading dark romance. Yes, I have male readers, the mafia and MC clubs are male orientated. But women readers are flocking to more risqué and violent books. And they love a feisty female and not a weeping damsel in distress. And my women can kick arse! However, I do put them through hell before they get their HEA. They deserve it after what they've been through.
About Road Rage:
Beautiful and scarred, Gem works in a supermarket living the safe life she has chosen after surviving a violent past running with an outlaw motorcycle club. Excitement beckons in the form of a handsome biker named Shep, who introduces her to the rest of his legit racing club, Rage.
However, members of Rage won't accept Gem until she's proven herself, and Shep sees her as no more than a trophy for his drugged-up ego.
Gem then makes the mistake of getting involved in Rage's illegal activities, which then lands her back in the arms of an outlaw motorcycle club and a deadly conclusion.
What reviewers are saying.
This book had me engaged from beginning to end. Gem is a strong female lead and its very much needed in an MC world. I was hanging on for this ride to see what would happen next as it was full of action and I loved every minute of it. I cannot wait to read more!
*****
There is a lot of abrasive scenes played out through the whole book. That aside the story line of this book is amazing. It kept me turning the page and reading as fast as I could through the whole book. I couldn't put it down, I had to know what happened next.
*****
This is the first book that I have read by this author, and I was HOOKED! This book had many twists and turns and had me on the edge of my seat in anticipation of what was to come next.
*****
Also check out Karina's book, Broken Chains, a dark, mafia romance. Age 18 +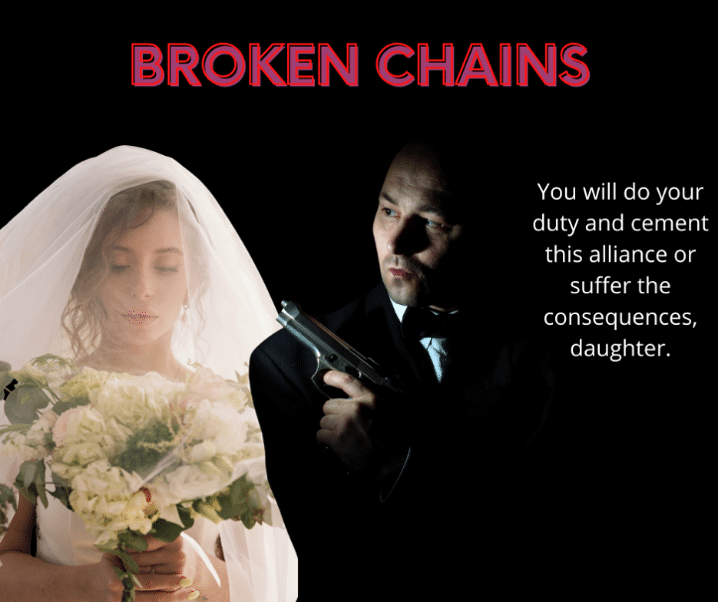 If only she had stuck to singing in bars.
If only the idea of wanting to become an author had never entered her mind.
If only she'd never met Alex.
That one meeting had caused an avalanche of fate to clash with a dangerous destiny that forced Liz Finely to become the most wanted woman in the world. Stalked by three deadly mafia bosses, Liz has to learn to survive. Passed from one brutal hand to another, tortured, and abused, it's her blood, her name, which lands her in trouble each time.
Now it's up to Liz to find the strength to accept and become who she's meant to be, and finally, break the chains that bind her.
Discount! Download either or both of the books for half of the retail price. Miss out the middle and download your Mobi file, e-book, PDF or Epub.
Or pick up the paperback at Amazon, Walmart, Target or B&N