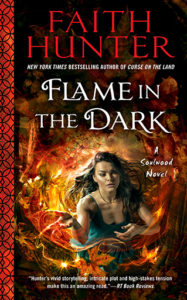 How lucky am I? I have a blog post from FAITH HUNTER!!! Read below to learn about Faith's heavy drinkers…and heavy drinking. Watch for even more about Flame in the Dark on December 4.  Excerpt from How Occam Got His Name, part 7 AND Excerpt 14 from Flame in the Dark.  It's  the Holiday Season for sure.
Faith Hunter's Characters and the Heavy Drinkers
I've admitted that I have a drinking problem. Yes. Really. Tea addiction is not always a pretty thing.
Yes. Tea.
Not so much alcohol. I am boring when I have alcohol in my system. I mostly get cranky and then go to sleep. My characters don't drink alcohol much either, Jane Yellowrock because it does nothing to her particular metabolism, Nell Ingram because her form of earth magic user simply prefers coffee, teas, and herbal decoctions.  Like me, they both have a drinking problem.
For me, the writer of the characters, the particular caffeine of choice is a mood thing. And a weather thing. In cold weather, I drink hot tea, mostly black, sometimes herbal decoctions with strong flavors. I like natural vanilla flavoring. I like a Chai. Occasionally a spicy apple. Rarely coconut. But brew me up a pot of very spicy chai with vanilla, peri-peri peppers, and spice, and I am in heaven! In summer is an iced Golden Monkey, a black tea out of China.
However, like the Soulwood characters, if I am sleepy, I'll brew a pot of coffee. I keep a bag of French roast in my travel bag, and right now, it's a Community Coffee Dark French Roast. Sooo good! It's the same coffee that Unit Eighteen of PsyLED (Psychometric  Law Enforcement Division of Homeland Security) drinks in the Soulwood series, the Louisiana coffee introduced by the infamous secondary character people love to hate, Rick LaFLeur .
The best coffee comes out of Louisiana. Seriously. Community Coffee, out of Louisiana, is a gateway drug! In Louisiana, you will find Community Coffee in coffee makers in businesses, hospitals, offices … everywhere. So of course it had to travel a Louisiana bad-boy-cop to the Appalachian Mountains when he moved there. Nell Ingram, the main character of the series, starts out drinking as much tea as coffee, but as the series progresses, she takes up a love of good coffee. It's part of the character development and one I'm having fun with. It may also be part of the evolution of her as a paranormal species.
So, while Nell carries a badge and a gun, and tracks down paranormal bad guys, she also carries a love of coffee and an appreciation for good herbal teas. Check it out! Flame In The Dark
Coming soon!
www.faithhunter.net
https://www.facebook.com/official.faith.hunter?fref=ts
@HunterFaith
Please follow and like us: