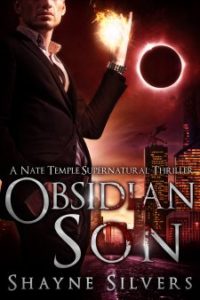 I asked Shayne Silvers, author of the Nate Temple series, to talk to us about how he created his character. If Batman and Harry Dresden had a baby, it would be Nate. I recently discovered the series and have loved all three books.  Shayne also is generous to his readers with free books available. Go and visit here: http://www.shaynesilvers.com/ 
There is a pulpy sarcastic humor, mystery, suspense, nerdy, fast-paced action, loving, emotionally conflicting element here, with a splash of philosophy. Which is similar to Jim Butcher's Dresden Files, and many other successful authors.  Shayne says, "Jim Butcher has long since been a Titan in the fantasy world, and I would love to someday meet the man, but I'll settle with standing in his shadow. My characters and stories seem to strongly resonate with his readers, which makes me deliriously happy, but anyone looking for a quick romp through a brave new world will get their kicks satisfied by peeping through the looking glass with Nate Temple's Supernatural Thrillers."
I agree. Recommend if you like stories penned by Patricia Briggs, Kevin Hearne, Faith Hunter, or Jim Butcher. Without further ado…Shayne Silvers.
SW Question: I would love it if you could do a post on how your character, who is a cross between Harry Dresden and Batman, is both an homage to those iconic characters, but also original and how you did that.
Nate Temple – Billionaire heir, playboy, in-the-closet-wizard, and all around good guy.
Typical stories take a character who is average, normal, or unnoticeable, and build him up to be a hero throughout a series of novels. He or she has big problems – they are poor, hate their job, are emotionally mangled in some way, etc., but they are also uniquely special. Special enough to save us all. This Hero's Journey outline has worked for many thousands of years. It's practically a Bible. A checklist of what works…
Silly me, I thought I was special and could turn that checklist on its head.
So I went into my series with the thought: What if my protagonist 'Had it all,' so to speak? What if he was already rich, and powerful, and whatever else people see as 'Flashy.' A Bruce Wayne or Tony Stark type character.
Then…
What if I began stripping away those strengths? His money. His friends. His reputation. His magic. Little by little, remove his armor. Bring him from Great to something Less. Still powerful, but back down to earth. Take away everything he has relied upon his entire life and make him struggle to not only save his city, but to find out what is truly important to him. Make him psychoanalyze himself and learn what truly makes him tick. And how he can get back to the top, to be strong enough to protect his city again. A Fallen Angel storyline.
This adds another dimension to his personal struggle. He's always remembering what he was. And hungering to get back there. But at what cost? He's always been a good guy, wanting to protect innocent people and to hurt bad people. But now he's got to figure out how to do it without all of his resources. And what he's willing to sacrifice to claw his way back.
I thought it sounded interesting. And apparently many readers did too, which is pretty humbling to me.
Thanks for being on SlipperyWords, Shayne.  Here's Shayne's Amazon page. Go buy his stuff.