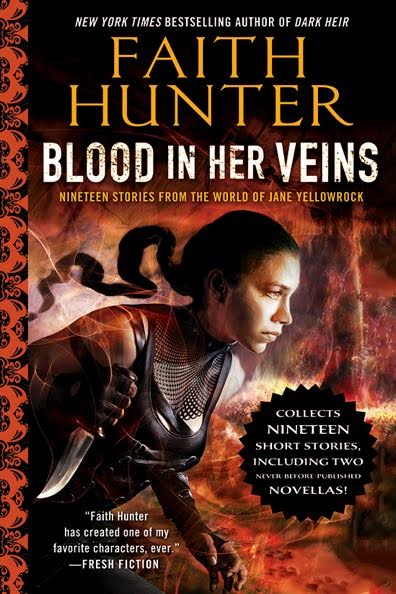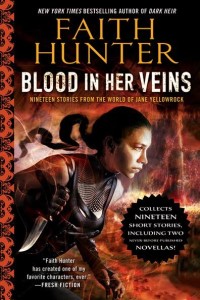 Blood in her Veins is a fantastic collection that allows new readers to become familiar with Jane's world, and established readers to remember why we love Jane and Beast.
I have a particular love of these short stories and novellas, since they can be picked up at anytime and give you a tasty bite of fanged/staked deliciousness. This is the book you want to have by your nightstand. You'll get a great story in, but won't have to stay up all night.
Now onto the …5th section of Shiloh and the Brick. The sixth and last section will be on Faith's own website.
SHILOH AND THE BRICK  (Copyright held by Faith Hunter)

Part Five

The blood-servant knelt at Shiloh's side, whispering tender words and comfort. My eyes swept across the others gathered in the doorway. The man appeared to be the oldest, and certainly the most in control. But approaching a frightened, young vamp was dangerous under any circumstances. Approaching a frightened young witch-vamp was downright suicidal. 

My cell rang, blaring into the sudden silence of the room. Shiloh hissed at me and her witch energies tightened around her like a purple-green shroud. Normally, at a time like this, I'd ignore it, but it was Leo's ring tone, set into my cell by my partner in Yellowrock Securities, Alex Younger, as a joke. Marilyn Manson was screaming, 'If I Was Your Vampire'. Not funny. 

I answered, "Now is not a good time."

"You will place me on speaker phone," Leo said. It was a command, phrased as a request, but a command nonetheless.  

I tapped the cell face and Leo said, "Shiloh. My child. You will be calm." His voice filled the room, banishing the shadows of silence and fear and the tingle of witch magic. Filling the room with vamp compulsion and an odd sense of peace that even I felt. "Shiloh," he repeated. "You will be calm."

Shiloh took a shuddering breath, and the blackness of her eyes decreased, the scarlet sclera fading to pink and then to white. Her fangsschnicked back into her mouth on their tiny hinges. 

I blew out my relief. Evan's spell whispered away. The group of blood-servants took a collective breath, as if they had been holding theirs. The man beside Shiloh said, with the greatest of vampire formality, "Do you need blood, my mistress?"

"I … No," she said. "What happened?" 

Shiloh's confusion was not a good sign. It spoke of rogue-status. Of vampires who lost control, draining and killing humans with the mindless hunger of the chained. Of killing for the sake of killing. And everyone in the room realized that at the same time. Even Shiloh. None of us knew what to do about it. But none of us were vamps…

Purchase links

 (SHADOW RITES, book 11 in the Jane Yellowrock series, is coming out in April 2016. Pre-order now!)

Faith Hunter, fantasy writer, was born in Louisiana and raised all over the south. She writes three Urban Fantasy series:  the Skinwalker series, featuring Jane Yellowrock, a Cherokee skinwalker who hunts rogue vampires. The Soulwood series, featuring earth magic user Nell Ingram. And the Rogue Mage novels, a dark, urban, post-apocalyptic, fantasy series featuring Thorn St. Croix, a stone mage. (There is a role playing game based on the series, ROGUE MAGE.)

Under the pen name Gwen Hunter, she writes action-adventure, mysteries, and thrillers. As Faith and Gwen, she has 30+ books in print in 29 countries.

Hunter writes full-time, tries to keep house, and is a workaholic with a passion for travel, jewelry making, white-water kayaking, and writing. She and her husband love to RV, traveling with their rescued Pomeranians to whitewater rivers all over the Southeast.
Please follow and like us: