I absolutely loved Robin Hood: Demon's Bane 1: Mark of the Black Arrow, published by Titan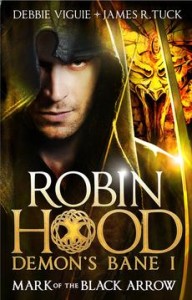 . It is creative, fun, loyal to canon and yet thoroughly modern. It is also a quick read, so pick it for a weekend's read, a road trip or a chilly fall evening by a fire.
I asked authors Debbie Viguie and James R. Tuck to talk to me about this book.
One of my favorite things about your take on the Robin Hood story is the prominence of Maid Marion as a true heroine. No shrinking violet here. Did you go into this book with that as a goal or did it develop as you worked together?
Debbie: I always loved the hint of Marian as a spy in the Errol Flynn film. While we decided to make Will a court spy in our book it was important that Marian have a vital part to play as Robin's equal without her feeling like a modern woman dropped into a medieval story. I love how she feels true to her time yet totally heroic.
James: I wanted Marian to be fairly kick ass but at the same time a woman of her time. She has been shaped by the social mores and a bit sheltered but also raised by a kind man who loves her and pushes her to be all she can be. She's as much a hero as the rest of the crew.
2. Can you describe the process of co-writing this book? How did you work together?
Debbie: I have to say writing with James is a dream. Our strengths complement each other nicely.
James: We swap off via email. I wrote a section then sent it to Debbie who wrote a section and so forth. We kept in touch with text and emails to swap ideas that came up in the writing and the rewriting.
3. I couldn't quite tell.  How old are Marion, Robin and Will?
James: I picture youngish for our time, 18-21, but in those days you had to be pretty grown up by the time you were a teen. I worked under the assumption they could be a little younger acting than they really would have been back then by virtue of Kind Richard's peaceful reign.
Debbie: What James said. I see them as the modern day equivalent of mid-twenties. Their actual age I picture to be 17-19.
4. When the black arrow comes to Robin, the original guardian thanks him for releasing him from his prison.  Are we to suspect that Robin is the new guardian and will, at some point, wind up locked in Sherwood Forest?
Debbie: I'd say he is the new guardian of the arrow. What that means for him, we'll just have to wait and see.
James: You may suspect that. We shall see how that works out. *muwa ha ha's to himself *
5.  How challenging is it to work with a story with such an established canon?
Debbie: One of the great things about the Robin Hood story is that there are several characters to work with that will be familiar to the audience but that don't always get a lot of attention. It's been a lot of fun to flesh out some of the secondary characters and even introduce new ones. We use people's knowledge of the myth and their expectations as a jumping off point for our story. We let it inform our work but we don't let it constrain our work.
James: Not difficult at all. I found it allowed a lot of material to mine but whenever we wanted we simply ignored it and did our own take on the things happening in the story itself.
Bonus Question–Why such a long title? It couldn't have been Robin Hood: Mark of the Black Arrow? What's the purpose of the Demon's Bane?
James: Ha, publishers. Totally the call of Titan. I would have liked a series title of Robin Hood: Demonslayer but they felt with all the Abraham Lincoln Vampire Hunter knockoffs it would hurt the book.
Debbie: What James said. We all wanted the series title to reflect the supernatural element and then have the individual book titles reflect something specific about that book.
Bonus question 2: Tuck, did you design this cover?
James: Nope. That was the good folks over at Titan. I had nothing to do with it, but I like it!
Debbie: I was thrilled when our editor revealed to us the book covers.  They are so beautiful and mysterious.
SW: I loved it too!